Sunday 26th.May,2019.
Weather wise today was perfect, center fire silhouette was very well patronized as to was the five stages of Cowboy Action. Lakota shot very well having cleaned the match right up unto the last rifle shot. Bad luck Lakota. Congratulations goes to Mortimer, him being our overall winner today. match finaltt Main Match 05262019.pdf


Sunday 5th.May,2019.

Excellent day, not a cloud to be seen and a bunch of eager shooters making a very enjoyable day of it. It was great to see a good roll up. Top shooters in the centerfire match were ,Mark best time 11.71,JohnB best time 24.41,Mitchell best time 22.54,Sallyanne best time 25.89. Most improved shooter today was and congratulations goes to Sallyanne. There were some very good groups shot in this afternoon's bench rest event at 100 metres. Cowboy Action showed plenty of fun especially in the "I don't like the way your pluckin' the turkey" stage. Overall winner was and congratulations goes to Johnny Sylva and runner up the Sheriff and Bullshot. The most improved shooter in this event was (pictured) is Laramie, what a difference a shotgun makes.

Sunday 27th.May,2018.

Another day done and dusted as the sun set on the Last Frontier, some thought that a couple of the stages were a little daunting, however after they shot them very well the story changed some what. Lakota was back after a short bout in hospital, welcome back Lakota and thank you for repainting all the targets today in readiness for next Sundays Cowboy Action. Trinity has taken some of the damaged targets away for welding repairs and refacing. Thankyou Trinity.The Sheriff shot the match clean. Enthusiastic visitors from Maryborough showed positive interest in joining the Club and in Cowboy Action. Scores : match finaltt Main Match 05272018.pdf

Sunday 6th.May,2018.

Today's Centerfire Metallic Silhouette event proved quite a challenge for the competitors. The targets were quite

Sunday 28th.May,2017.

Today's Centerfire Metallic Silhouette shoot out to 200 meters had a good attendance, congratulations goes to Master Robert who took out the iron sight category. Congratulations goes to Jack of Hearts being overall winner of the Magnificent Seven shoot. Pictured is Will E Doo, deep in concentration shooting Gunfighter at today's event. Scores are here :Match Final Main Match 05282017.pdf
Sunday 7th.May,2017.


Congratulations to all that attended today's event, the stages were a little more challenging making for excellent practice for the upcoming speed events coming our way. Pictured is new shooter Roland, who I might add is quickly becoming an old hand at Cowboy Action. Congratulations goes to Philin overall winner (pictured timing Mungo) closely followed by Mungo shooting black powder. Scores : Match Final Main Match 05072017.pdf
Sunday 22nd.May,2016.
It certainly was great to see the good roll up for today's shoot both the new, and old faces that I hadn't seen for such a long time. Thank you for taking the time and effort to come and play cowboys with us.
Just click here to see the scores. Match Final Main Match 05222016.rtf
Sunday 1st.May,2016.

Looks like May has brought the rain again to the Last Frontier, only 24mm but at least its a start as drought was setting in again. Last May we had a 150mm and a flood. Shooting today was shot under very pleasant conditions, fine cool and cloudy. Pictured, Beth and the steps leading to the shooting position,St.Helens. Congratulations to our shooters that were able to attend the Queensland State Titles. Placings for today's shoot are right here :Match Final Main Match 05012016.pdf



Sunday 24th.May,2015.
Another exceptional day of shooting with the weather being at its best, clear blue skies and a light breeze made for very pleasant shooting conditions. The shoot was challenging and effective. The next shoot is on the 7th.June, make sure your participant records are up to date as the year ends on the 30th.June.Our top pistol silhouette shooter,Chisholm had a little difficulty with the extra bright conditions at the 150 and 200 metre targets. In the Cowboy Action field there were obstacles for most of us, but everyone was able to pull through and remained smiling at the end. If you would like to see today's scores,here is the link Match Final Main Match 05242015.pdf
Sunday 3rd.May,2015.
What an exceptional day after the flooding on Friday,150mm fell on the Last Frontier over the two day period causing flooding to the local area. With all the water receded we were back in action having a fun filled day of Cowboy Action. Renegade Tye called in on his way back from the State Titles, Gold Medal in hand and filled the sky with smoke from his black powder guns. Philin was back and in top form and took out the match, good on you Philin.
You can check the scores right here :Match Final Main Match 05032015.pdf
Sunday 25th.May,2014.
Today's weather was absolutely glorious with temperatures reaching 28 degrees, clear blue skies with no sign of clouds at all, our roll up was excellent with everyone having the most enjoyable time. Jack and Philin done a little more work on our new Telegraph Office whilst Teacher and Lakota refreshed the targets with new paint in readiness for next weeks shoot. Why don't you come along and join in the fun ? Overall winner today was Mortimer. You may check the scores right here : Match Final Main Match 05252014.pdf

Sunday 4th.May,2014.
Howdy, sorry for the delay in uploading this weeks scores but there were situations that just seemed to keep getting in the way, as always Sunday's scenarios at the Last Frontier were fun filled with plenty of action to be had by all. We had a new boy on the block today, a first time overall winner, congratulations goes to Jack Beauregard. You may check the scores right here :Match Final Main Match 04052014.pdfBeauregard

Sunday 26th.May,2013.

Once again perfect weather was how we viewed it today here at the Last Frontier, great for getting dressed up and playing the greatest game around. Shame you couldn't make it today but here's hoping that next Sunday 2nd.June will be more suited to you, we look forward to seeing you. Needed will be 50 rounds for your pistols and the same for your rifle. Shot gun will need a box of ammo. Congratulations goes to our overall winner for today "Philin " keep up the good work. Checkout the today's scores here in the pdf 26052013.pdf

Sunday 5th.May,2013.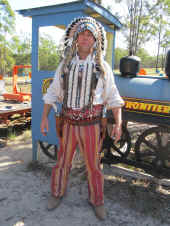 Beautiful weather and a great crowd made for an excellent day of shooting. Even the visitor's went home smiling, it was also great to see Siringo burning gunpowder again after his long illness. It's hard to keep a good man down. Everyone that shot today was a winner simply by being here and enjoying the fantastic conditions. Pictured is Renegade Ty, I'll leave it up to you to work out the scenario. Overall winner was Mungo.
You will find the scores right here : 05052013.pdf


Sunday 27th.May,2012.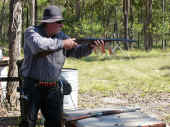 It was another perfect day with a frosty start here at the Last Frontier today. A day when all those that say getting dressed up to shoot is too hot, well there were no reason for excuses today. Another thankyou to Johnson and this time Philin and Al Swearigen for their sincere efforts in providing us with today's entertaining five stages. It's great when we have these new ideas coming in all the time, thanks boy's.

A Word of Warning : to all those person's that do reloading, please take notice of the reloader's hand book and follow the safety precautions in particular make sure that you wear safety glasses in case of an unexpected primer discharge, one never knows when one might just go BANG. Your eye sight cannot be replaced.

Date Claimer :1st and 2nd September,2012 are the dates to be at The Last Frontier for "The Cowboy 12 Doc Holiday Memorial two day shoot". This years theme is " Dead Man's Hand" Print your flyer and nomination forms here by clicking on the pdf files. Cowboy 12 Flyer and Nomination Form.pdfThere will be 10 Main Stages plus a walkout stage, Cowboy/Cowgirl Silhouette, Long Range Rifle.
The scores for today were some what mixed and I guess the stages provided for that. 27052012.pdf See you next Sunday 3rd.June,2012.
Sunday,May 6th.2012.

It was a glorious day here at The Last Frontier, one would think that spring was here and not autumn. Congratulations must go to Al Swearigen and Johnson for their combined efforts in producing and setting up a fantastic day of Cowboy Action Shooting. It certainly was great to have the weekend break, thankyou. Date Claimer :1st and 2nd September,2012 are the dates to be at The Last Frontier for "The Cowboy 12 Doc Holiday Memorial two day shoot". This years theme is " Dead Man's Hand" Print your flyer and nomination forms here by clicking on the pdf files. Cowboy 12 Flyer and Nomination Form.pdfThere will be 10 Main Stages plus a walkout stage, Cowboy/Cowgirl Silhouette, Long Range Rifle. I guess you would like to see the scores now. 06052012.pdf
22nd.May,2011.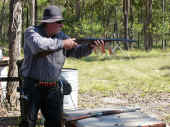 Congratulations to our medal winners at the recent Queensland State Titles for Cowboy Action Shooting, they were No Pony Gold, Little Joe Gold and I D Claire Bronze, plus congratulations to all those that tried just as hard. I found that as I have come up through the years that it doesn't matter what sport you play, most times those less fortunate at obtaining top placing's have put in more time and trained maybe even harder then the actual winners, and most times you will often notice that the media forgets all about these
1st.May,2011.

Congratulations to all those that attended and represented the Last Frontier at Dalby Easter weekend and the Queensland State Titles this May Day weekend. If the weather was as good there as it was at the Last Frontier you all should have had a wonderful time. Five stages with a difference were shot today you may find the scores at the pdf file.01052011.pdf
23rd.May,2010.

Congratulations to all of you that attended our first International Shoot here at the Last Frontier. Five stages were shot using two rifles, two six guns and a side by side shotgun. The pressure started to build in the stage at the Shady Ladies with several competitors loosing their footing so to speak and the shotgun targets became allusive. The Single Shot winner went to Mortimer, who incidentally won the most colourful dressed section. The top three placing for the other
2nd. May,2010.

A good Day, good company and a darn good shoot. Mortimer was back in form taking out the honours however every shooter excelled in one way or another...Congratulations to you all. Yep without the Spirit of the Game we would not have what Cowboy Action is all about. Click here to view the scores.02052010.pdf
24th.May,2009.
I guess too many shooters listened to the Weather Reporters and stayed at home...what a mistake...Yep another fantastic beautiful fine sunny day with Cowboy Action at its best....just ask anyone that turned up today for the Action at The Last Frontier. You will find todays scores here at the pdf file.240509.pdf
3rd May,2009.
Numbers were down today here at The Last Frontier due to the Queensland State Titles being held in Mareeba. Congratulations to those that were able to go north and represent us here in the south. Thankyou for keeping the Spirit of the Game Alive. We had twelve shooters here today with four of them shooting rimfire silhouette for the first time. The remaining eight ...well they had Cowboy Action in their blood, and action they had...The weather was perfect, 12degrees at the start to 24 degrees at midday. Click on the pdf file to view the scores. Johnson was the winner of the Pat Garret shoot. 03052009.pdf
25th May,2008.
Today's shoot was based on the Kilburnie Kid still rides again,well he did....Five proper stages in true Cowboy Action style. The five stages were shot clean by Bad Al Zima. Congratulations Bad Al on a job well done.What amazed me was the lack of attendance by those shooters that couldn't shoot in the hot weather and get dressed up too. Today the weather was absolutely magnificent and suited those shooters. With a cool morning and temperatures reaching only 24 degrees at midday made for the most pleasant conditions possible. Click on the pdf file to view the scores.250508.pdf
Don't forget to Nominate for "Cowboy 08"
27th May,2007.
Important Message Dates Changed for "The Cowboy 07" shoot is now on the 1st September,2007 and 2nd September,2007.
Weather was fantastic. Congratulations to all those thirty-one cowboys and cowgirls that turned up ready for another day of Cowboy Action. As normal five terrific Last Frontier type stages were in the line-up for the days shooting program. Yes, even the Pickerton's were waiting in ambush on the wagon at the Frontier Railway Station, not forgetting to mention that the Sheriff had to keep his head down. Even the Shady Ladies were in trouble..."Yes Cowboy", that's you that I am talking to, 'should have been here to enjoy the fun", well that was until the storm came bringing welcome rain to this part of Queensland. Some continued shooting the rest of us sat in the barn and had a great time chatting. The Stages are now set for next weeks Cowboy Action.
It's 8am May 28th.2006 and the first two vehicles pull up at The Last Frontier Shooting Range "Howdy Sheriff" calls Jack the Blade Slade as he steps down from his 4wd. "Gooday Sheriff" called Douglas Mortimer. "I'll get those flags up for you Sheriff, is there anything else that needs doing?" says Jack. "No thanks Jack " I replied "Everything is under control we are in for another great day of Cowboy Action, I.D.Claire has another 5 interesting Stages for us today and the weather is perfect"....
And so right I was, the scenarios were simple yet fast and challenging. Click on the pdf files to check out the scores.
2805.pdf 280506.pdf
Today's round of Cowboy Clays were shot on the new Simulated Field shotgun range. Now that's what I call a challenge, getting those clay birds before they take cover in the trees.
The top shooters were :
1. Mal 18
2. Kevin 16
3. Judy 11
3. Ian 11
4. Dave 8
5.Mic 6
5.Tim 6
6.Peter 4
May 7th.2006 produced beautiful Autumn weather with clear blue skies and just a pleasant nip in the early morning air. The days stages were presented by Cpt.Augustus McCrae and I.D.Claire and those present enjoyed them very much. Congratulations to you both. Click on the pdf file to view the days scores.070506.pdf
The top five Cowboy Clay shooters were :
1. Mal 19
2. Alan 16
3. Mic 15
4. Lloyd 10
5. Tim 5